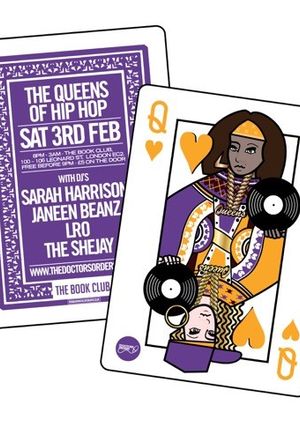 Queens of Hip-Hop
3rd Feb 2018 8pm - 3am
Add to Calendar
2018-02-03 20:00:00
2018-02-04 03:00:00
Europe/London
Queens of Hip-Hop
The Doctor's Orders presents The Queens of Hip-Hop Free Before 9pm / £5 on the Door www.thedoctorsorders.com DJs: Sarah Harrison Janeen Beanz LRO The Shejay Anything guys can do girls can do better as we prove with the latest instalment of 'The Queens of Hip-Hop'. We present a dream team of not just female talent, but raw talent full stop. The phenomenal Sarah Harrison is defiantely one of the most exciting DJs in the country right now and one who's star is on the rise.  From rocking clubs and festivals to her Radar Radio show to her more laid back selections for Nike she knows how to move a crowd. The brilliant Janeen Beanz is a regular at The Doctor's Orders and tears up venues everywhere from Dubai to Switzerland with her distinctive soulful sound. LRO has come a long way in a very short time. Having decided to try her hand at DJing only a couple of years ago she is already making waves and featuring at some of the hottest parties in town Having done such an incredible job last time we just had to invite  The Shejay back to wreck shop. Warming up this massive sesssion with a blend of old and new we are certain to see another packed house so get down early. For more information, photos, interviews, etc please do not hesitate to contact… Rod Gilmore: press@thedoctorsorders.com / 0207-833-9544 https://thebookclub.eventcube.io/events/9934/queens-of-hip-hop
100 Leonard Street, London, Greater London, EC2A 4RH
Event Details
The Doctor's Orders presents
The Queens of Hip-Hop
Free Before 9pm / £5 on the Door
DJs:
Sarah Harrison
Janeen Beanz
LRO
The Shejay
Anything guys can do girls can do better as we prove with the latest instalment of 'The Queens of Hip-Hop'. We present a dream team of not just female talent, but raw talent full stop.
The phenomenal Sarah Harrison is defiantely one of the most exciting DJs in the country right now and one who's star is on the rise. From rocking clubs and festivals to her Radar Radio show to her more laid back selections for Nike she knows how to move a crowd.
The brilliant Janeen Beanz is a regular at The Doctor's Orders and tears up venues everywhere from Dubai to Switzerland with her distinctive soulful sound. LRO has come a long way in a very short time. Having decided to try her hand at DJing only a couple of years ago she is already making waves and featuring at some of the hottest parties in town

Having done such an incredible job last time we just had to invite The Shejay back to wreck shop. Warming up this massive sesssion with a blend of old and new we are certain to see another packed house so get down early.
For more information, photos, interviews, etc please do not hesitate to contact…
Rod Gilmore: press@thedoctorsorders.com / 0207-833-9544