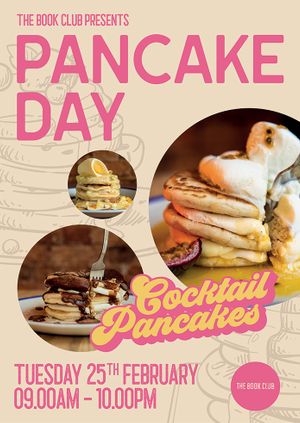 Pancake Day
25th Feb 2020 9am - 10pm
Add to Calendar
Event Details
This Pancake Day we'll be throwing a pancake party like no other all day from 9am-10pm with a delicious pancake and cocktail deal for you all to feast on. Whether you like your pancakes over breakfast, lunch or dinner, we got you covered.
We've turned London's favourite cocktails into a three different stacks of delicious pancakes...


Espresso Martini Pancake
Pina Colada Pancake
Pornstar Martini Pancake

These pancakes have been concocted to taste just like boozy pancakes, just without the booze. Imagine stacks of fluffy American pancakes sandwiched together with Cream, doused in a rich chocolate and Espresso sauce, finished with a smooth topping of more cream, and of course chocolate coffee beans to garnish.

Head HERE to read more and enter into our competition to win FREE PANCAKES.