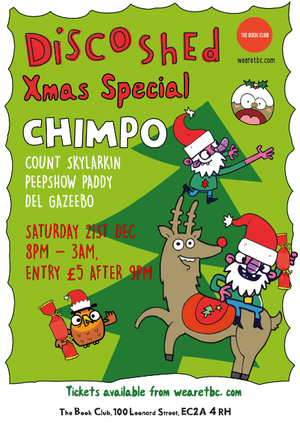 The Last Ever Disco Shed Xmas Knees up w/ Chimpo
21st Dec 2019 8pm - 3am
Add to Calendar
Event Details
The Last Ever Disco Shed Xmas Knees up w/ Chimpo

This December, we see the sad farewell of The Book Club institution Disco Shed for a good old fashioned XMas knees up!
Having been at the venue for the last 10 years we have had many good times with Count Skylark and the crew, and we are looking forward to a big old send off.
After a summer of festivals and gigs around the country, residents Peepshow Paddy, and Del Gazeebo will be bringing in yule tide partying on Leonard street in style welcoming first time shedonist Chimpo!!

Chimpo is the UK's music legacy personified. His legendary DJ sets take in all the genres created within the UK and all of the influences that inform them. Hailing from Manchester, he comes from a long line of musical innovators and you can hear this in his output. He works as a triple threat; production, DJing and vocalist. Unlimited by genres means you can find his work in drum & bass, Grime, Hip Hop, Dancehall, Dubstep and everything in between….As always they will be joined by shed stalwarts and residents, so you can expect them all to be mixing up the genres all night long as they bring the unique Disco Shed brand of party to our basement once more.

On top of the best party music East London has to offer you can expect the usual Shed décor, birthday giveaways, party hats, confetti, Birthday cake and more!!