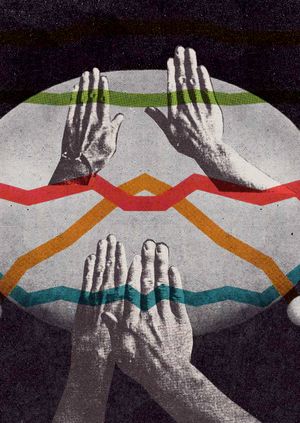 Unforsaken Exhibition Launch by Jimmy Turrell & Richard Turley
21st Feb 2019 6pm - 2am
Add to Calendar
Event Details
A free exhibition running 21st February till 16th May 2019 curated by Liat Chen and Algy Batten
Jimmy Turrell & Richard Turley are taking over The Book Club in Shoreditch with their exhibition "Unforsaken". Jimmy most recently worked on videos, live visuals and artwork for the musician Beck, and also designed Aretha Franklin's very last album cover.
Join us for a private view of this brand new exhibition on its exciting launch night with DJs, dancing and beers on the house (sponsored by Estrella) 

The antithesis to Marie Kondo's modern 'throw away therapy', this new exhibition is about finding the true beauty in old forgotten or discarded objects.
Last year artist Jimmy Turrell bought a single job lot of around a 1000 vintage books and objects on eBay. When they arrived outside his house in an articulated lorry (on four huge wooden palettes) to say he was a little overwhelmed is a massive understatement. He learned from the seller on Ebay that the whole job lot was days away from being taken to the rubbish dump as nobody else had bid in months. The books and objects had been in the loft of a house he had moved into and the previous owner didn't want them anymore. Jimmy bought the whole job lot for £150.
The lot included everything from 1920's skiing manuals to vintage scrapbooks (of the Norwegian Royal family) to strange old boardgames and figurines.
The idea that these materials had once been truly cherished (and were then discarded) but are now being brought back to life a completely new context is something that really resonated with Jimmy and Richard. He then started the long process of cherrypicking the best book covers (for both typography and imagery), board game parts, vintage postcards and ephemera until he had a really comprehensive selection of material to work with.
Over the next few months he and his friend Richard Turley have screenprinted, drawn, painted and collaged on top of this material - sometimes using the existing imagery and book titles as the source for ideas and concepts and at other times relying on happy accidents and randomness to create imagery of a more abstract nature.
Jimmy and Richard will also be collaborating with the Art of Ping Pong in re-designing The Book Club's ping pong room. Especially for this exhibition Art of Ping Pong will be customising one of their full-size tables to encapsulate some of the discarded objects and books so that they become a visual element of the game.