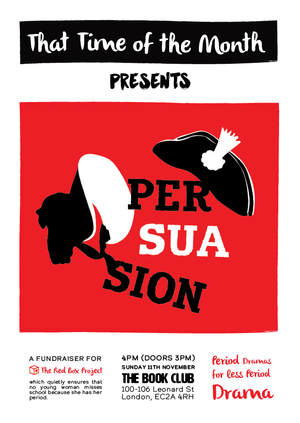 That Time of the Month
11th Nov 2018 4pm - 6pm
Add to Calendar
2018-11-11 16:00:00
2018-11-11 18:00:00
Europe/London
That Time of the Month
GET YOUR TICKET NOW"Austen fans: Prepare to be swept away." The New York Times on PERSUASIONTHAT TIME OF THE MONTH screens period dramas to fundraise for the Red Box Project, a community-led initiative to combat period poverty in schools.Whether you've ever had a period or not, you can help students across the UK secure their futures, while enjoying a sumptuous escape to the past.For Remembrance Day, THAT TIME OF THE MONTH presents PERSUASION, the 1995 film adaptation of Jane Austen's final novel. The adapation has been praised for its faithfulness to the novel and compelling performances.The luscious Leena Normington, podcaster and poet, will host.This time we are supporting Red Box Project Hackney North.Since starting their project in February 2018, the Red Box Project Hackney North has provided boxes to 41 schools, colleges and youth clubs in north Hackney - they are now very close to achieving their goal of reaching every school and educational setting in the north of the borough, to the extent needed! Let's help them get there!Attendees are encouraged to bring sanitary donations to fill Red Boxes on the night, and will have the opportunity to learn how to set up Red Box donation points.There will be a period-drama-themed raffle including books donated from Vintage, with tickets available for purchase or swapped with donations.Tickets start at £3 and include popcorn. Special deal on Bloody Marys and brunch before and after the film. Pre-order brunch along with your ticket here. You can choose to have brunch before or after the film. There will be a room reserved for the attendees to enjoy brunch, but feel free to dine anywhere in the Book Club.You can donate directly to the Red Box Project Hackney North here:https://www.justgiving.com/crowdfunding/theredboxprojecthackneynorthPeriod Dramas for Less Period Drama https://thebookclub.eventcube.io/events/14396/that-time-of-the-month
100 Leonard Street, London, Greater London, EC2A 4RH
Event Details
"Austen fans: Prepare to be swept away." The New York Times on PERSUASION

THAT TIME OF THE MONTH screens period dramas to fundraise for the Red Box Project, a community-led initiative to combat period poverty in schools.
Whether you've ever had a period or not, you can help students across the UK secure their futures, while enjoying a sumptuous escape to the past.
For Remembrance Day, THAT TIME OF THE MONTH presents PERSUASION, the 1995 film adaptation of Jane Austen's final novel. The adapation has been praised for its faithfulness to the novel and compelling performances.
The luscious Leena Normington, podcaster and poet, will host.
This time we are supporting Red Box Project Hackney North.
Since starting their project in February 2018, the Red Box Project Hackney North has provided boxes to 41 schools, colleges and youth clubs in north Hackney - they are now very close to achieving their goal of reaching every school and educational setting in the north of the borough, to the extent needed! Let's help them get there!
Attendees are encouraged to bring sanitary donations to fill Red Boxes on the night, and will have the opportunity to learn how to set up Red Box donation points.
There will be a period-drama-themed raffle including books donated from Vintage, with tickets available for purchase or swapped with donations.
Tickets start at £3 and include popcorn. Special deal on Bloody Marys and brunch before and after the film. Pre-order brunch along with your ticket here. You can choose to have brunch before or after the film. There will be a room reserved for the attendees to enjoy brunch, but feel free to dine anywhere in the Book Club.
You can donate directly to the Red Box Project Hackney North here:
https://www.justgiving.com/crowdfunding/theredboxprojecthackneynorth
Period Dramas for Less Period Drama