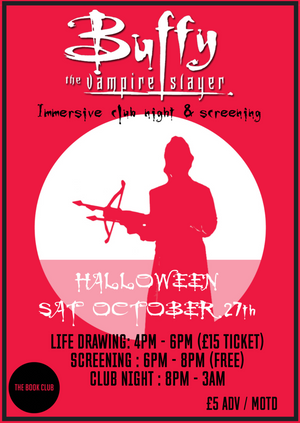 A Buffy The Vampire Halloween - Welcome to THE BRONZE
27th Oct 2018 4pm - 3am
Add to Calendar
Event Details
ONLINE TICKETS SOLD OUT BUT TICKETS AVAILABLE ON THE DOOR FOR THE CLUB EVENT // Club - £5 ADV & MOTD
TBC presents - A Buffy The Vampire Halloween - Welcome to THE BRONZE

This Halloween, The Book Club is transforming… Welcome to your (new/oldest) favourite club, THE BRONZE…

Gather up the Scooby Gang and head to the local watering hole on the wrong side of town to listen to some rockin' alt tunes, 90s hip hop and dance music classics in this homage to all things Buffy.
Sketch the gang with Art Macabre 4-6pm in one of the best life drawing salons yet. From sketching Spike's perfect jawline to smudging charcoal into messy black Xander locks; to outlining Buffy herself, this is a must for every Buffy fan. BUY TICKETS FOR LIFE DRAWING CLASS HERE.
Join us from 6.30pm-8pm to watch the iconic episodes, Hush and Once More with Feeling; and sip on some delicious Sunnydale cocktail specials.

Early on in the night you can expect our resident DJs to be playing some of the best songs of the era playing tunes from bands like The Cranberries, Hole, Treble Charger and Mazzy Star and Dingoes Ate My Baby to set the tone, but then as things get later and darker and the tunes louder, the vampires will appear, demanding only the best in 90s dance music.
To get into this most exclusive of clubs, remember the dress code is Sunnydale chich (encouraged but not necessary) —but we know you have a flannel shirt and a pleather mini skirt in your closet you're dying to wear.
If you're extra lucky, you may run into Olaf the troll, if you're extra unlucky your parents may eat too much magic band.
***Life Drawing & Screening tickets – These tickets guarantee entry to the screening only from 6pm, there is no allocated seating, seating is allocated on a first come first serve basis.

***Club tickets guarantee entry up until 10.30pm for club only and do not include the Life drawing or screening, there are separate FREE tickets for the screening, anyone who attends the screening will get in to the club show for free but screening tickets will not be accepted after 8pm.
Tickets: Club - £5 ADV & MOTD // Life Drawing Class - £15 // Screening - Free
Times:
Life Drawing: 4pm – 6pm
Buffy Screening: 6pm – 8pm
Club night: 8pm – 3am
Music policy: 90s classics, house, disco, funk, soul hip-hop, R&B, Halloween classics