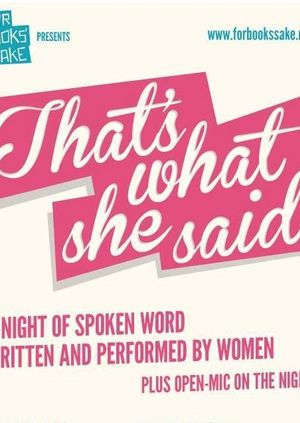 That's What She Said ft Jemima Foxtrot
25th Apr 2018 7:30pm - 10:30pm
Add to Calendar
2018-04-25 19:30:00
2018-04-25 22:30:00
Europe/London
That's What She Said ft Jemima Foxtrot
Buy Tickets Here"The biggest spoken word night in London for women" (Evening Standard) is back for a rabble rousing 2018!Shortlisted for Best Spoken Word Night in the UK (Saboteur Awards, 2017), That's What She Said showcases the best new writing and performance by women, featuring iconic and emerging authors with a mix of performance, poetry, storytelling, slam and more.Jemima Foxtrot (@JemimaFoxtrot) is a writer, performer, musician and theatre-maker who blends powerful, sonic-heavy words with snippets of song in her distinctive and powerful voice. Jemima has written commissions for BBC 2, BBC Arts, Channel 4 and Tate Britain. She has written three solo poetry plays which tour nationally: Melody and Above the Mealy-mouthed Sea with her theatre company Unholy Mess and Rear View with experimental theatre veterans I.O.U. All Damn Day, Jemima's first collection of poetry, is published by Burning Eye Books.Layla McCay (@LaylaMcCay) is a storyteller/spoken word performer and Director and MC of Perfect Liars Club, a popular storytelling show that sells out monthly in Washington, Tokyo and Tel Aviv. She has performed all over the world in storytelling, comedy, and other spoken word shows, mostly performing stories based on her own life, plus story-based stand-up comedy on themes that include women, science, and literature. She has won Moth storyslams, and performed stories for up to 1000-person audiences. A Washington Post review described this as 'storytelling at its finest' and DCMTA said 'McCay has a passion that's palpable and her enthusiasm for the show helps to carry it and make it as delightful as she is.' I have my Netflix debut on 1 February in new TV series The Mortified Guide. WHAT THEY SAY..."To put it bluntly, I'd never come across a spoken word night with such a fantastic lineup. 'How have I never come across this before?', I kept asking myself, 'this is everything I've ever wanted from a night out...'I was blown away. I left feeling inspired, with renewed confidence in my own abilities, and almost missed my tube stop on the way home trying to write down scraps of poetry and prose.Not only is That's What She Said a great place to see talented literary performers, for everyone and not just women, but it provides a space for women to shout and scream their anger, their frustrations, their desires; a space without censorship, without objectification and without the dreaded "it must be her time of the month" quip. I think For Books' Sake is doing some really important work." (Thanks SexyVeg for this recent review of one of our London shows!)Open mic walk ups on the evening are welcomed but with limited places it might be advisable to email paul@forbookssake.net if you have a burning desire to speak out and speak up.Get your tickets for only £7 now while you can, or come along on the night for £10 on the door. And remember - For Books' Sake is a volunteer led, community organisation so all your pennies will be going back into championing women writers! https://thebookclub.eventcube.io/events/10645/thats-what-she-said-ft-jemima-foxtrot
100 Leonard Street, London, Greater London, EC2A 4RH
Event Details
"The biggest spoken word night in London for women" (Evening Standard) is back for a rabble rousing 2018!
Shortlisted for Best Spoken Word Night in the UK (Saboteur Awards, 2017), That's What She Said showcases the best new writing and performance by women, featuring iconic and emerging authors with a mix of performance, poetry, storytelling, slam and more.
Jemima Foxtrot (@JemimaFoxtrot) is a writer, performer, musician and theatre-maker who blends powerful, sonic-heavy words with snippets of song in her distinctive and powerful voice. Jemima has written commissions for BBC 2, BBC Arts, Channel 4 and Tate Britain. She has written three solo poetry plays which tour nationally: Melody and Above the Mealy-mouthed Sea with her theatre company Unholy Mess and Rear View with experimental theatre veterans I.O.U. All Damn Day, Jemima's first collection of poetry, is published by Burning Eye Books.

Layla McCay (@LaylaMcCay) is a storyteller/spoken word performer and Director and MC of Perfect Liars Club, a popular storytelling show that sells out monthly in Washington, Tokyo and Tel Aviv. She has performed all over the world in storytelling, comedy, and other spoken word shows, mostly performing stories based on her own life, plus story-based stand-up comedy on themes that include women, science, and literature. She has won Moth storyslams, and performed stories for up to 1000-person audiences. A Washington Post review described this as 'storytelling at its finest' and DCMTA said 'McCay has a passion that's palpable and her enthusiasm for the show helps to carry it and make it as delightful as she is.' I have my Netflix debut on 1 February in new TV series The Mortified Guide.
WHAT THEY SAY...
"To put it bluntly, I'd never come across a spoken word night with such a fantastic lineup. 'How have I never come across this before?', I kept asking myself, 'this is everything I've ever wanted from a night out...'
I was blown away. I left feeling inspired, with renewed confidence in my own abilities, and almost missed my tube stop on the way home trying to write down scraps of poetry and prose.
Not only is That's What She Said a great place to see talented literary performers, for everyone and not just women, but it provides a space for women to shout and scream their anger, their frustrations, their desires; a space without censorship, without objectification and without the dreaded "it must be her time of the month" quip. I think For Books' Sake is doing some really important work." (Thanks SexyVeg for this recent review of one of our London shows!)
Open mic walk ups on the evening are welcomed but with limited places it might be advisable to email paul@forbookssake.net if you have a burning desire to speak
out and speak up.

Get your tickets for only £7 now while you can, or come along on the night for £10 on the door.

And remember - For Books' Sake is a volunteer led, community organisation so all your pennies will be going back into championing women writers!