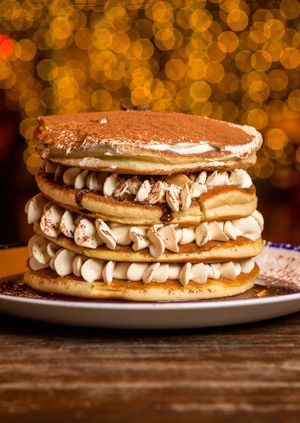 Pancake Day!
13th Feb 2018 9am - 10pm
Add to Calendar
Event Details
This #PancakeDay we'll be throwing a pancake party like no other all day from 9am-10pm with delicious sweet and savoury options.

We've turned London's favourite cocktail into a stack of delicious pancakes – Espresso Martini Pancakes.

The boozy concoction comprises a stack of fluffy American pancakes sandwiched together with Kahlua Cream, doused in a rich chocolate, Espresso and vodka sauce, and finished with a smooth topping of more Kahlua Cream, and of course three chocolate coffee beans to garnish.

For those that prefer savoury, the café-bar will be serving Okonomiyaki - a Japanese savoury pancake topped with Crispy Katsu Chicken, Bonito flakes, pickled ginger, seaweed, Japanese Mayo and Okonomiyaki Sauce (a spiced Teriyaki Ketchup).